Dentist in Orlando, FL
Marcia Martinez, D.M.D.
5180 Curry Ford Road
Orlando
,
FL
32812
(407) 273-6620
Call For Pricing Options!
My Blog
Posts for: May, 2013
By Marcia Martinez, D.M.D.
May 30, 2013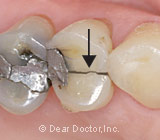 You may never have heard of cracked tooth syndrome. However, while it is often difficult to diagnose, this condition can be very serious, and it will be helpful to familiarize yourself with the symptoms.
Cracked tooth syndrome can be summed up in three phases: craze lines, cracks and fractures. Craze lines refer to miniscule cracks in the outer enamel surface of a tooth. While they do not cause immediate harm to the tooth, they can lead to true cracks in the enamel that actually penetrate the dentin.
This can lead to a fracture, where the crack extends deep into the tooth. The deeper the crack, the worse the symptoms. If the fracture exposes the pulp, the living tissue within the tooth, it must be treated immediately in order to save the tooth. Fractures are now the third leading cause of tooth loss. This increase may be the result of several factors, including longer life spans and higher stress levels that may lead to increased teeth clenching and grinding.
The complications surrounding the diagnosis of cracked tooth syndrome stem from the fact that symptoms vary, depending upon the location of the crack and what other structures are involved.
If you feel a sharp, intense pain for a short amount of time during chewing, then you likely have a crack in a "vital" tooth in which the nerve has not been affected. If a crack reaches the nerve, the pulp tissues housing that nerve will become inflamed and sensitive to temperature changes.
On the other hand, if you have a crack in a tooth without living pulp, the symptoms may be vague. It's often difficult to locate where the pain is coming from until the tissues around the teeth are affected. If a crack involves periodontal structures (gum, periodontal ligament and bone), symptoms may include tenderness around the tooth, in which case it will be easy to discern the affected tooth.
Finally, when a crack increases and becomes a true fracture, the symptoms strengthen. If located in the crown of the tooth, a piece of the tooth may come off, becoming quite sensitive to temperature change and sweet foods. If the crack is located in the root, you will experience pain of increasing intensity.
Keep in mind that early diagnosis is of utmost importance, so we will always conduct a thorough examination to check for signs and symptoms of cracked tooth syndrome. The earlier it is detected, the easier it will be to repair, so be sure to share with us any pain or discomfort that you have been experiencing.
If you would like more information about cracked tooth syndrome, please contact us or schedule an appointment for a consultation. You can also learn more by reading the Dear Doctor magazine article "Cracked Tooth Syndrome."
By Marcia Martinez, D.M.D.
May 15, 2013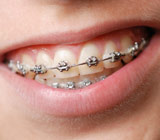 All parents want their child to have an attractive smile and good strong healthy teeth; but it may be difficult for parents to know if their young children's teeth are coming in the way they should. Parents may not know that it is also important that the upper and lower jaws need to be in proper alignment for a properly functioning bite.
As a child's permanent teeth come in, the teeth may be too crowded, or they may have spaces between them that are too large. They can have protruding teeth, extra or missing teeth, or problems with jaw growth. Sometimes children have malocclusions ("mal" – bad; "occlusion" – bite) that were caused by thumb sucking or other problems. If you wait to seek treatment until all of the child's permanent teeth have come in, and facial and jaw growth are nearly complete, correction of problems will be more difficult and the potential to encourage jaw growth in a positive direction may be lost.
When a little can go a long way
Whether a malocclusion is obvious or not it is important to have an orthodontic evaluation at an early age. Experts advise having an orthodontic evaluation some time before the age of 7. At 7, a child's permanent (adult) teeth have begun to come in but they still have some primary (baby) teeth left. If necessary, it's a good time to intercept and make a big difference for a little treatment.
Treatment that begins while a child's teeth are erupting or coming in, is called "interceptive orthodontics." It provides an opportunity for the best results in orthodontic treatment. It can also include working with the child's facial growth and jaw development to assure that the upper and lower jaws align together effectively. It can often be done with simple removable appliances rather than full braces.
Orthodontics ("ortho" – straight; "odont" – tooth) is a sub-specialty of dentistry that is devoted to the study and treatment of malocclusions. Your general or pediatric dentist may recommend that our child consult with an orthodontist. Orthodontists are dentists who specialize in the growth and development of the teeth and jaws, as well as directing proper growth by moving the teeth into correct position.
Come to see us early for an orthodontic evaluation, while it's still easy to make a big improvement in your child's future smile.
Contact us today to schedule an appointment or to discuss your questions about orthodontia in children. You can also learn more by reading the Dear Doctor magazine article "Early Orthodontic Evaluation." Or the article "The Magic of Orthodontics."