Dentist in Orlando, FL
Marcia Martinez, D.M.D.
5180 Curry Ford Road
Orlando
,
FL
32812
(407) 273-6620
Call For Pricing Options!
My Blog
Posts for: July, 2014
By Marcia Martinez, D.M.D.
July 23, 2014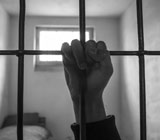 When a 51-year-old Swedish man developed a throbbing toothache with facial swelling, he knew he needed to get to the dentist right away. There was only one problem: The unnamed individual was inside the Östragård minimum-security prison, serving a short sentence. But he didn't let that stop him from getting dental treatment — he simply broke out of jail and headed straight for the nearest dental office.
"In the end, I just couldn't stand it," he explained to the Swedish newspaper Dagens Nyheter.
After the offending tooth was extracted, the offender himself went to the local police precinct and turned himself in. Taking his circumstances into account, the court added just 24 hours to his original sentence, and he was released soon thereafter. "Now I only have to pay the dentist bill," he noted.
While we certainly don't encourage jailbreaks, we might feel that this fellow made the right choice. It's important to know when you need to get dental treatment right away, and when you can wait. Here are some very basic guidelines:
If you're suffering a traumatic dental injury that is causing you severe pain, or you can't control bleeding after applying pressure for a few minutes, go to the nearest emergency room right away (as you would for any serious injury).
If your tooth is knocked out or loosened, it should be treated in the dental office or emergency room within 6 hours. Place it back in its socket (in the correct orientation), if possible; if not, tuck it between the cheek and gum, or put it in a glass of cold milk. Hold the loose tooth gently in place. It's often possible to successfully re-implant a tooth that has received quick first aid.
If a tooth is chipped or cracked less severely, try and save any missing pieces, and make an appointment to come in as soon as you can. Don't forget to bring the pieces with you!
If you have acute or persistent tooth pain, come in to our office right away. There are many things that can cause tooth pain, including tooth decay (a bacterial infection), a loose filling, or tooth sensitivity. Minor sensitivity or occasional aches when chewing can be temporarily eased by rinsing with warm salt water and taking an over-the-counter pain reliever; more severe pain may indicate that you need root canal treatment to preserve a tooth in which the pulp has become seriously infected.
Pain is the body's way of telling you that something's wrong. When you experience mouth pain, it's best for you to see us as soon as possible. Quick treatment just might save your tooth — and perhaps save you from a far steeper bill for tooth replacement. If you would like more information about dental emergencies, call our office for a consultation. You can learn more in the Dear Doctor magazine article "Tooth Pain? Don't Wait!"
By Marcia Martinez, D.M.D.
July 15, 2014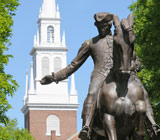 How much do you really know about Revolutionary War hero and famous disturber-of-the-peace Paul Revere? Take this quiz and find out! True or False:
Paul Revere cried "The British are coming!"
Paul Revere rode to Concord, Massachusetts.
Paul Revere practiced dentistry.
The first two answers are false: Revere, like most colonists, considered himself British at the time (but might have said "the regulars" are coming); and he never made it as far as Concord, though one of his midnight-riding companions did. The last statement, however, is true: When things got slow in his regular trade of silversmithing, Revere hung out a shingle to broadcast his skills as a dentist.
"Paul Revere can fix [teeth] as well as any surgeon dentist who ever came from London, he fixes [dentures] in such a manner that they are not only an ornament but of real use in speaking and eating," his advertisement in a Boston newspaper is supposed to have read. Revere specialized in fitting dentures made of metal and walrus ivory in his patient's mouths. (There is no record, however, that he ever worked on George Washington's false teeth.)
The practice of dentistry has come a long way since 1776. But the ideal set of dentures — one that's both aesthetically pleasing and fully functional — remains a valid goal today. But now, instead of going to a metalworker, you'll visit a denture specialist: your dentist.
We understand that dentures need to have a perfect, comfortable fit so they can do their work. That's why we take the time to make an individual mold of your mouth as the first step of the process. Then we choose prosthetic teeth in the shape, size and shade that's right for you. When everything is satisfactory, the dentures will be custom-fabricated in a dental laboratory using high-quality materials that are lifelike and durable. Finally, we will make sure that your new dentures look, feel and function the way they should.
If you have older dentures that no longer fit as they should, come in to our office for a check-up. It's sometimes possible to repair or re-line dentures; in other cases, it's best to have a new set made. Ill-fitting dentures aren't just uncomfortable — they can also lead to oral infections and nutritional difficulties.
For more information about dentures or denture repair, please contact our office to schedule a consultation. You can learn more in the Dear Doctor magazine articles "Loose Dentures" and "Removable Full Dentures."