Dentist in Orlando, FL
Marcia Martinez, D.M.D.
5180 Curry Ford Road
Orlando
,
FL
32812
(407) 273-6620
Call For Pricing Options!
My Blog
Posts for tag: missing teeth
By Marcia Martinez, D.M.D.
January 13, 2019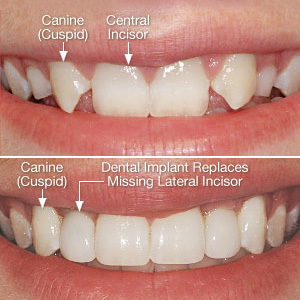 When you look at the top row of a normal smile, you'll see symmetrical pairs: the central incisors in the middle, flanked by the lateral incisors and the canine (or eye) teeth on the outside of them.
Sometimes, though, teeth may not form as they should: in fact, it's one of the more common congenital defects with one in five people having missing or deformed teeth, often the upper lateral incisors. In the latter case, it's not uncommon for the eye teeth to drift into the missing lateral incisors' spaces next to the central incisors. This creates a smile even a layperson can tell is off.
There is a way to treat this with orthodontics and cosmetic dentistry that will transform that person's smile while restoring better mouth function too. It's often a long process, however, that's best begun early and must be precisely timed with dental development.
Using braces, we move the drifted teeth back to their proper positions, which will make room for a future dental restoration. It's usually best to begin this treatment during late childhood or early adolescence. The next step is to fill the newly-created space with prosthetic (false) teeth.
Dental implants are an ideal choice since they're durable and life-like, and won't require permanent alteration of adjacent teeth. They do, however, require a certain amount of bone volume at the site to support them; if the volume is insufficient we may have to place a bone graft to stimulate new growth.
It's also best not to install implants until the jaw has finished development, usually in the late teens or early adulthood. In the interim between tooth repositioning and implants we can customize a retainer or other removable appliance with a false tooth to occupy the space. This not only enhances the smile, it also prevents the repositioned teeth from drifting back.
These steps toward achieving a new smile take time and sometimes a team of specialists. But all the effort will be rewarded, as a person born without teeth can have a new smile and improved oral health.
If you would like more information on treating dental development deficiencies, please contact us or schedule an appointment for a consultation. You can also learn more about this topic by reading the Dear Doctor magazine article "When Permanent Teeth Don't Grow."
By Marcia Martinez, D.M.D.
July 26, 2018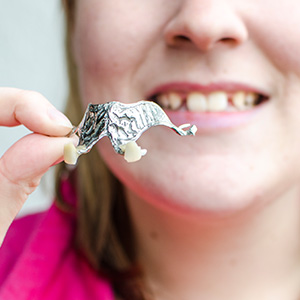 Anyone at any age, including older children and teenagers, can lose or be born missing a permanent tooth. And while those missing teeth can be restored, replacing them in patients who haven't yet reached adulthood can be tricky.
That's because their dental and facial development isn't finished. This is especially problematic for dental implants because as the jaws continue to grow, a "non-growing" implant could eventually appear out of alignment with the surrounding natural teeth. That's why it's often better to install a temporary restoration until the jaws fully mature in early adulthood. Two great choices are a removable partial denture (RPD) or a bonded ("Maryland") bridge.
While "dentures" and "teens" don't seem to go together, an RPD in fact can effectively restore a teen's lost dental function and appearance. Of the various types of RPDs the one usually recommended for teens has a hard acrylic base colored to resemble the gums, to which we attach prosthetic ("false") teeth at their appropriate positions on the jaw.
Besides effectiveness, RPDs are easy to clean and maintain. On the downside, though, an RPD can break and—as a removable appliance—become lost. They can also lose their fit due to changes in jaw structure.
The bonded bridge is similar to a traditional fixed bridge. But there's one big difference: traditional bridges crown the natural teeth on either side of the missing teeth to secure them in place. The supporting teeth must be significantly (and permanently) altered to accommodate the life-like crowns on either end of the bridge.
Instead, a bonded bridge affixes "wings" of dental material extending from the back of the bridge to the back of the natural teeth on either side. While not quite as strong as a regular bridge, the bonded bridge avoids altering any natural teeth.
While a fixed bridge conveniently stays in place, they're more difficult than an RPD to keep clean. And while less prone to breakage, they aren't entirely immune to certain stresses from biting and chewing especially in the presence of some poor bites (how the upper and lower teeth come together).
Choosing between the two restorations will depend on these and other factors. But either choice can serve your teen well until they're able to permanently replace their missing teeth.
If you would like more information on dental restorations for teens, please contact us or schedule an appointment for a consultation.
By Marcia Martinez, D.M.D.
June 20, 2017
Dental implants are widely considered by both dentists and patients as the premier choice for replacing missing teeth. Unfortunately, implants aren't the appropriate choice for teenagers with missing teeth.
That's because their jaws won't fully finish most of their growth and development until early adulthood. An implant placed too early could become misaligned as the jaw matures. The best approach for a teenager is a temporary restoration until they're old enough for an implant.
There are a couple of good options. One is a removable partial denture (RPD), prosthetic (false) teeth set in an acrylic base that mimics gum tissue at the locations of the missing teeth. RPDs, which stay in place by way of metal clips that fit over other teeth, are easy to wear and maintain.
On the downside, an RPD can break if you bite into something too hard. They can lose their fit and may need to be replaced with a new one. And, some teens aren't quite keen on wearing a "denture."
Another option is a bonded or Maryland bridge, a kind of fixed bridge. We bond dental material to the back of a prosthetic tooth with portions of the material extending out from either side of it.  We then bond these extending tabs to the back of the teeth on either side of the prosthetic tooth to hold it in place. Unlike traditional bridges, we can eventually remove it without any permanent alterations to the teeth it's attached to.
Before we undertake a bonded bridge, though, we must make sure the gums and bone of the surrounding teeth are free from periodontal (gum) disease and are healthy and strong enough to support the bridge. We also need to be sure the patient doesn't have a deep bite or a teeth grinding habit, which could cause the teeth to make contact with the tabs and break them.
The patient also needs the maturity to responsibly perform diligent oral hygiene: this type of bridge has a tendency to build up disease-causing plaque, so brushing twice and flossing once every day is critical. Not doing so increases the risk of tooth decay or periodontal (gum) disease, which could complicate a future implant.
We can discuss these options after a thorough dental examination of your teenager. Either way, we'll be able to restore your teen's smile until we can undertake a more permanent restoration.
If you would like more information on tooth replacement options for teenagers, please contact us or schedule an appointment for a consultation.