Dentist in Orlando, FL
Marcia Martinez, D.M.D.
5180 Curry Ford Road
Orlando
,
FL
32812
(407) 273-6620
Call For Pricing Options!
My Blog
Posts for tag: smoking
By Marcia Martinez, D.M.D.
January 28, 2020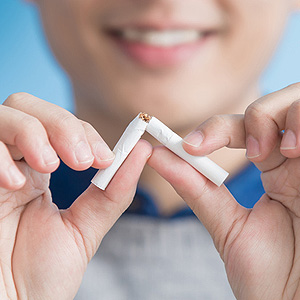 If you smoke, you know better than anyone how a hard a habit it is to kick. If you want to quit, it helps to have a motivating reason—like lowering your risk for cancer, cardiovascular disease or similar conditions.
Here's another reason for quitting tobacco: it could be making your teeth and gums less healthy. And, if you're facing a restoration like dental implants, smoking can make that process harder or even increase the risk of failure.
So, to give your willpower some needed pep talk material, here are 3 reasons why smoking doesn't mix with dental implants.
Inhaled smoke damages mouth tissues. Though you may not realize it, the smoke from your cigarette or cigar is hot enough to burn the top layer of skin cells in your mouth, which then thickens them. This could affect your salivary glands causing them to produce less saliva, which in turn could set off a chain of events that increases your risk of tooth decay or periodontal (gum) disease. The end result might be bone loss, which could make installing dental implants difficult if not impossible.
Nicotine restricts healthy blood flow. Nicotine, the chemical tobacco users crave, can restrict blood flow in the tiny vessels that course through the mouth membranes and gums. With less blood flow, these tissues may not receive enough antibodies to fight infection and fully facilitate healing, which could interfere with the integration of bone and implants that create their durable hold. Slower healing, as well as the increased chances of infection, could interrupt this integration process.
Smoking contributes to other diseases that impact oral health. Smoking's direct effect on the mouth isn't the only impact it could have on your oral health. As is well known, tobacco use can increase the risk of systemic conditions like cardiovascular and lung disease, and cancer. These conditions may also trigger inflammation—and a number of studies are showing this triggered inflammatory response could also affect your body's ability to fight bacterial infections in the mouth. Less healthy teeth, gums and underlying bone work against your chances of long-term success with implants.
If you would like more information on dental implants, please contact us or schedule an appointment for a consultation. You can also learn more about this topic by reading the Dear Doctor magazine article "Dental Implants & Smoking: What are the Risks?"
By Marcia Martinez, D.M.D.
June 17, 2019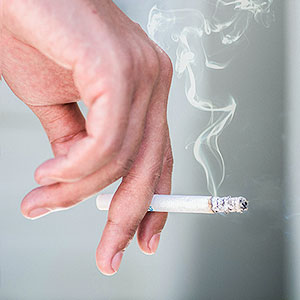 Although costly in the beginning, dental implants often turn out to be the least expensive tooth replacement option. That's because their enviable record for longevity often outpaces dentures or bridges. Over the long-term you might spend less for implants than these other restorations.
But even with the high success rate of dental implants (greater than 95% survive the ten-year mark), we can't guarantee they won't fail. And if you're a tobacco smoker, the risk of failure might be even higher. One study, for example, found early implant failures were twice the rate for smokers over non-smokers. Although implant failures overall are low, smoking seems to be a factor in those that do.
There are a number of reasons to account for this. For one thing, inhaled smoke can damage salivary glands, reducing the flow of this important fluid. Saliva helps control bacterial growth and neutralize mouth acid, so without it you're more susceptible to tooth decay or periodontal (gum) disease. Either infection could ultimately weaken implant-supporting bone.
The nicotine in tobacco can also restrict oral blood vessels and lower their ability to supply antibodies and nutrients to the teeth and gums. This slows healing, which could have one particular effect on implant durability.
During the intervening weeks between implant placement and crown attachment, the implant's titanium post attracts bone cells that grow and adhere to its surface. The effects of nicotine on healing, especially right after implant surgery, can interfere with this integration process so that the implant doesn't anchor in the bone as well as it should.
If you're a smoker, you can increase your chances of implant success—and have a healthier mouth overall—by quitting smoking beforehand with the help of a cessation program. Or at the least, consider stopping smoking for one week before implant surgery and for two weeks afterward.
And be sure to brush and floss your teeth daily and visit your dentist regularly to keep your teeth and gums as healthy as possible. Stopping smoking and practicing effective oral hygiene could make a big difference in the success or failure of your implant.
If you would like more information on smoking and your dental health, please contact us or schedule an appointment for a consultation. You can also learn more about this topic by reading the Dear Doctor magazine article "Dental Implants & Smoking."
By Marcia Martinez, D.M.D.
November 03, 2014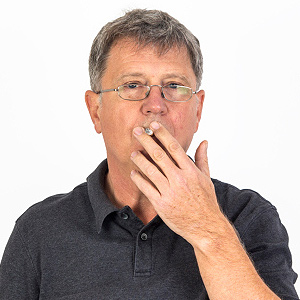 You probably already know that using tobacco causes significant health risks: It increases your odds of getting various cancers and coronary diseases, to name just a few. Unfortunately, not everyone is able to kick the habit, even when they know they should. Tooth loss is another issue that can cause trouble for your health, in the form of bone loss, malnutrition, and social or psychological problems. Dental implants are a great way to replace missing teeth — but does smoking complicate the process of getting implants?
The short answer is yes, smoking can make implant placement a bit riskier — but in the big picture, it doesn't mean you can't (or shouldn't) have this procedure done if it's needed.
Smoking, as you know, has harmful effects in your mouth (even leaving aside the risk of oral cancer). The hot gases can burn the oral cavity and damage salivary glands. Nicotine in smoke reduces blood flow to the soft tissues, which can affect the immune response and slow the processes of healing. At the same time, smoking promotes the growth of disease-causing oral bacteria.
How does this affect dental implants? Essentially, smoking creates a higher risk that implants may not heal properly after they are placed, and makes them more likely to fail over time. Studies have shown that smokers have an implant failure rate that's twice as great as non-smokers. Does this mean that if you smoke, you shouldn't consider implants to replace missing or failing teeth?
Not necessarily. On the whole, implants are the most successful method of replacing missing teeth. In fact, the overall long-term survival rate of implants for both smokers and non-smokers is well over 90 percent — meaning that only a small percentage don't work as they should. This is where it's important to get the expert opinion of an implant specialist, who can help you decide whether implants are right for your particular situation.
If you do smoke, is there anything you can do to better your odds for having a successful dental implant? Yes: quit now! (Implants are a good excuse to start a smoking-cessation program.) But if you can't, at least stop smoking for one week before and two weeks after implant placement. And if that is not possible, at least go on a smoking diet: restrict the number of cigarettes you smoke by 50% (we know you can at least do that!) Try to follow good oral hygiene practices at all times, and see your dentist regularly for checkups and cleanings.
If you have questions about smoking and dental implants, please contact our office or schedule a consultation. You can read more in the Dear Doctor magazine article "Strategies to Stop Smoking."