Dentist in Orlando, FL
Marcia Martinez, D.M.D.
5180 Curry Ford Road
Orlando
,
FL
32812
(407) 273-6620
Call For Pricing Options!
My Blog
Posts for tag: tmd
By Marcia Martinez, D.M.D.
May 16, 2015
A blow to the face can result in a variety of injuries to your jaws and the temporomandibular joints (TMJs) that join the lower jaw to the skull. Only a thorough examination can determine the type and extent of the injury, and how to treat it.
The pain you feel in your jaw may indicate a direct injury, usually near the joint. This could mean the joint head (condyle) has dislocated, or moved out of the joint space. It could also mean you've fractured your lower jaw, most commonly just below the head of the joint.
Jaw pain can also indicate structures near the jaw and joint have been damaged and the jaw is indirectly affected. In some cases a damaged tooth may be radiating pain signals through the jaw (along similar nerve paths). More likely, trauma to soft tissue near the jaw joint has swelled with inflammation, putting pressure on the joint and temporarily stopping the condyle from seating fully in the joint space.
Any of these injuries can also cause painful muscle spasms, a defensive reaction from the body that causes muscles on either side of the jaw to limit movement preventing further damage (a natural splint, if you will). Thus, the pain may be compounded by a diminished range of motion when you try to chew or speak.
It's important, therefore, to determine the exact cause of pain and limited movement before commencing treatment. Spasms and inflammation are usually treated with muscle relaxant drugs and anti-inflammatory pain relievers. In the case of a dislocation, gentle manipulation can ease the condyle back into the joint space. A fracture would require more extensive treatment, including repositioning broken bone and immobilizing the jaw from movement to allow healing. In the most severe cases, surgical treatment may be necessary to internally immobilize the joint.
If you sustain an injury that results in jaw swelling and pain, you should see us without delay. The sooner we can diagnose and begin the proper treatment for your injury, the less likely you'll encounter long-term problems and the sooner you'll be pain and swelling free.
If you would like more information on the causes and treatment of jaw pain, please contact us or schedule an appointment for a consultation. You can also learn more about this topic by reading the Dear Doctor magazine article "Jaw Pain."
By Marcia Martinez, D.M.D.
February 15, 2013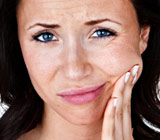 When it comes to chronic pain, one of the most common problems you can face is Temporomandibular Disorder (TMD), which was formerly known as Temporomandibular Joint Disorder (TMJ). TMD is a condition that can be tricky to diagnose because it frequently mimics other conditions. This is why many healthcare professionals refer to it as "the great imposter." However, regardless of what it is called, the pain it causes is real and can become quite severe — especially if left undiagnosed and untreated.
To grasp the condition fully, you must first understand the TMD pain cycle. It can start with any traumatic, psychological, metabolic, or mechanical stimulant that causes spasm in the muscles that move the jaw joints (opening, closing, chewing, and even smiling.) This is because of the constricted blood supply to the muscles resulting in less oxygen along with the accumulation of waste products. This is followed by chemical changes in the muscles and a buildup of lactic acid due to muscle fatigue. Abnormal or involuntary muscle contractions or spasms lead to pain signals to the brain that can stop muscle movement. Depending on the severity, this cycle can repeat itself resulting in acute pain that may be extremely severe at times. The pain may then seem to disappear only to resurface again later. The good news is that our office has highly trained professionals who cannot only diagnose but also treat your TMD.
If you suffer from chronic jaw pain and feel that you might have TMD, please let us know so that we can address your concerns and conduct a thorough history and examination. Or if you are in constant or severe pain, contact us immediately to schedule an appointment. You can learn more about the signs, symptoms, and treatment options for TMD by reading the article "TMD — Understanding The Great Imposter."